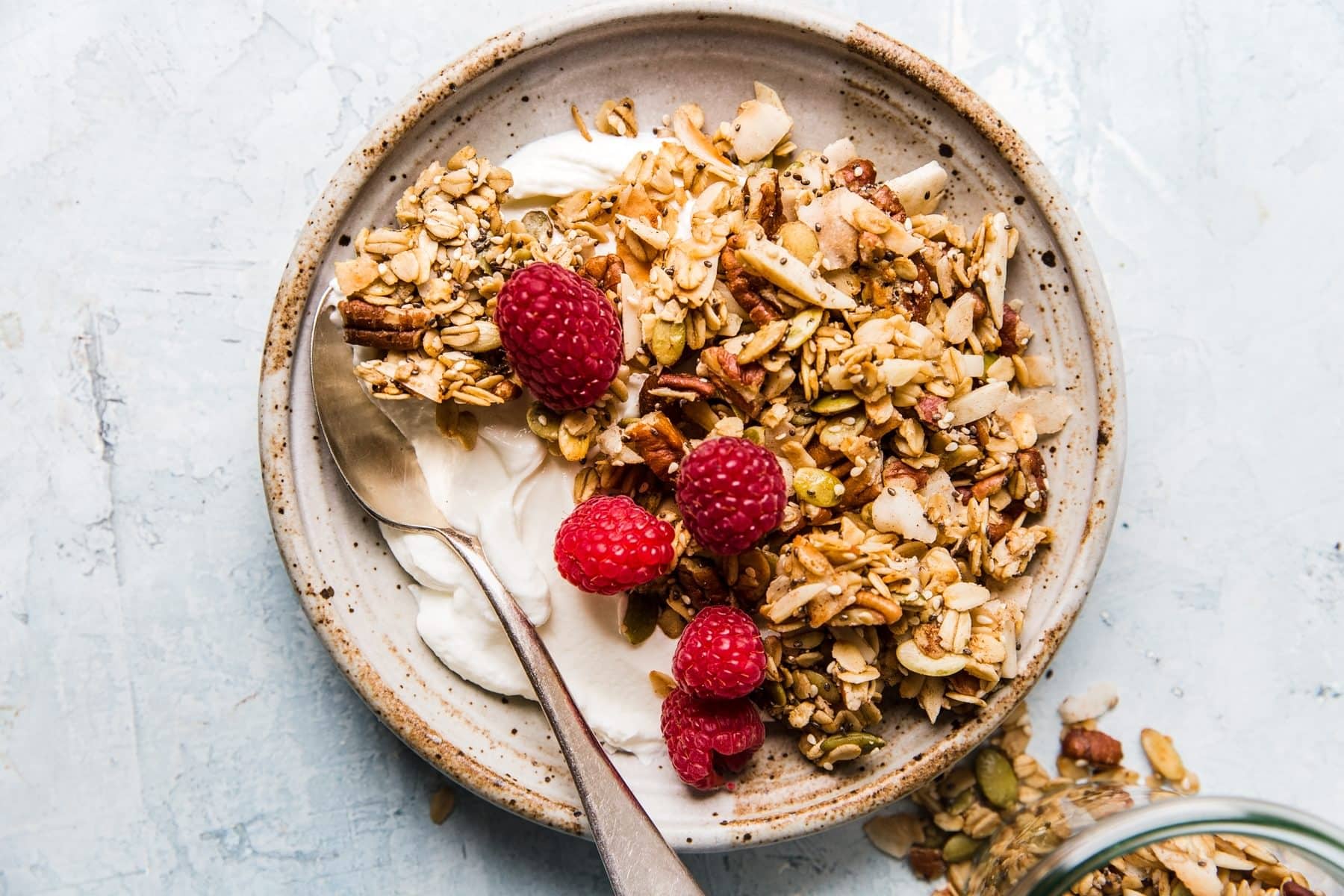 Shop Ingredients: https://enedao.com.bd/product-tag/nuts-seeds-granola/
This nutty, seedy, maple-sweetened granola makes mornings way easier. Serve it over Greek yogurt with honey and fresh berries for a power-packed breakfast the whole family will love.
Serves: 

8

Preparation Time:

 10 min

Cooking Time:

 20 min

Calories: 

649

Recipe By : The Modern Proper
Method:
Preheat oven to 350°F. Line a small, rimmed baking sheet with parchment paper. Set aside.

Place rolled oats, pecans, chia seeds, pumpkin seeds, almonds, sesame seeds, coconut, salt and cinnamon in a large mixing bowl. Toss to combine.

In a separate small, microwave safe bowl, heat the coconut oil until liquified. You may also do this over the stove top using a small sauce or frying pan. Add the maple syrup and vanilla extract to the coconut oil. Pour coconut oil mixture into the oat mixture. Stir until coated evenly.

In separate small bowl beat the egg white until peaks have formed. Gently fold stiff egg white into the granola.

Carefully pour granola onto the rimmed baking sheet. Using the flat bottom of a glass cup, gently press granola into a solid, even layer. Bake for 20 minutes. Every oven is different and we recommend gently lifting the edge of the parchment paper ½ and ¾ of the way through to ensure none of the edges are getting too dark.

Let granola mixture cool for 10 minutes before breaking it apart. Store granola in an airtight container for up to 1 month.