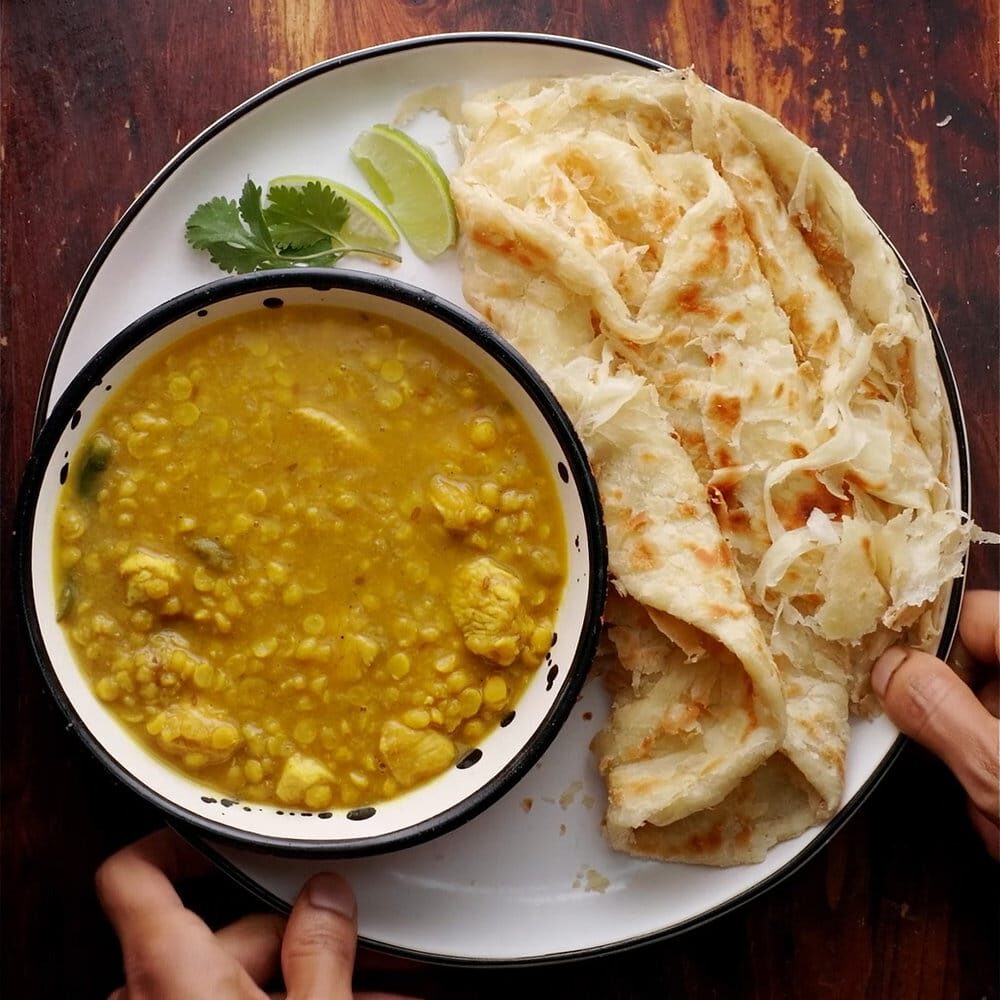 Ingredients:
Porota-
2. Chana Dal-
Instructions:
1. Add 3 cups of ap flour in a large clear bowl
2. Mix in salt, sugar, baking powder, instant yeast, and cooking oil
3. Gradually pour in room temperature water
4. Gently mix dough and coat with cooking oil
5. Cover dough with a towel and allow it to rest for 30 minutes
6. While the dough rest, prepare buter dal
7. Place a cup of buter dal in pressure cooker along with water, turmeric, salt, bay leaf and cooking oil
8. Cook until soft, about 4 whistles
9. Set aside the buter dal
10. Roll out the dough and gently brush with butter
11. Sprinkle ap flour and cut halfway and roll into a cone shape
12. Twist the cone into a round ball shape
13. Coat with butter and let it rest for 10 minutes
14. Add oil to a pan and add cloves, cinnamon stick, cardamom, cumin, and thinly sliced onion
15. Stir in garlic and ginger paste
16. Pour in a splash of water
17. Add turmeric, red chili, and coriander. Saute for 3-4 minutes (use little bit of water, so that spices don't stick to the pan)
18. Mix in bite size chicken breast cubes along with salt to taste, and garam masala
19. Pour in hot water
20. Add fresh green chilies
21. Cover with lid and cook for 10 to 12 minutes
22. Uncover and remove from heat
23. Roll out dough and cook on a flat pan until fluffy and light golden brown in colour
24. Remove porota from heat and fluff the porota to make it flaky
25. Serve the flaky porota with the chicken buter dal
26. Ready to Enjoy!