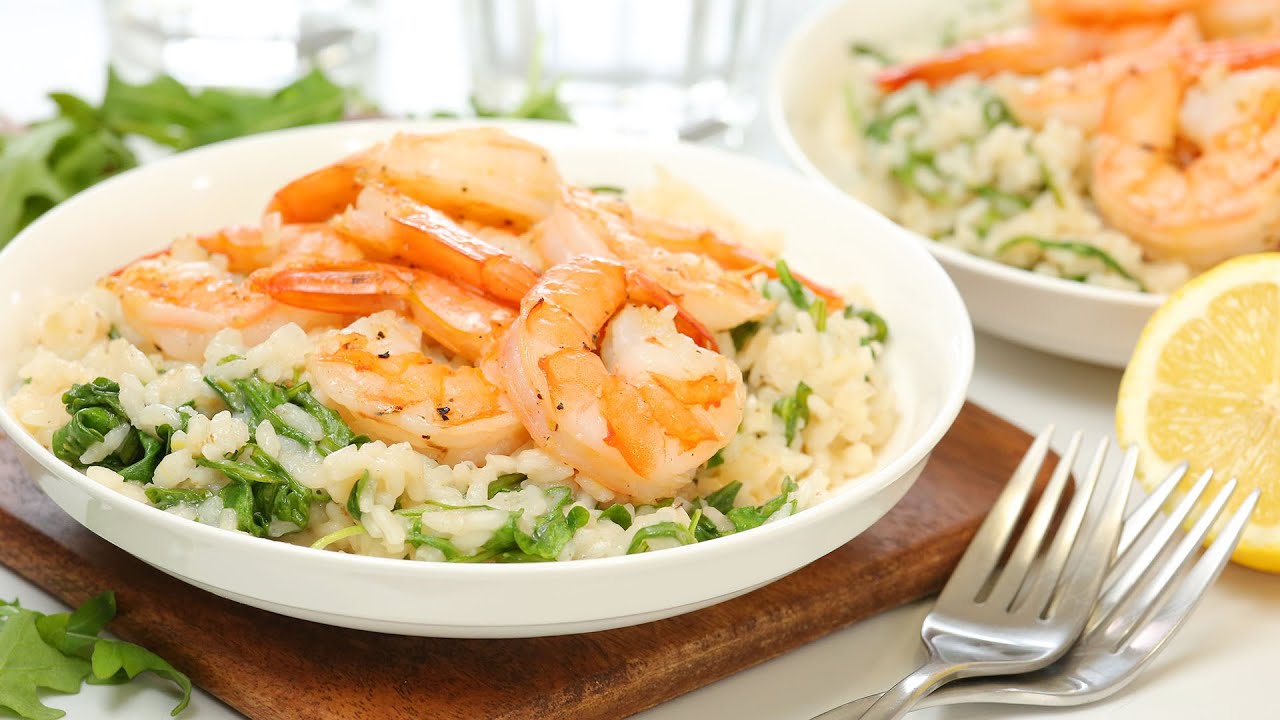 Ingredients:
1/4 cup chopped parsley
Equipment Needed : 
Instructions:
Heat 1 tablespoon of oil in a large skillet over medium heat. Add the shrimp in a single layer and sprinkle with the seasonings. Cook undisturbed for 2 minutes, then flip and continue to cook until pink and fully opaque, around 1-2 minutes more. Set aside on a plate.

Heat the remaining oil in the same skillet. Sautee the onion and garlic for 3-4 minutes over medium heat.

Add the rice and cook, stirring constantly, for 1 minutes.

Pour over two cupfuls of broth. Cook over medium heat, stirring frequently, until most of the liquid has beed absorbed.

Once the liquid is reduced, repeat the cooking process, by adding a cup of broth at a time.

Once all the broth has been used, the rice should be plump and creamy. Remove from heat and stir in the parmesan and parsley.

Serve the risotto topped with cooked shrimp.
Notes
Rice: You may substitute Arborio rice with Carnaroli rice or sushi rice. The taste and the texture will not be the same.
Protein: For those who aren't a fan of shrimp, you may easily substitute chicken breast for the meat in this dish.
Veggies: If you're making a garlic shrimp risotto, you can add peas, spinach, broccoli, asparagus, carrots, mushrooms, or tomatoes.
Cheese: We prefer parmesan but other similar cheeses can be used.
Herbs: This recipe goes well with fresh herbs like basil or chives.