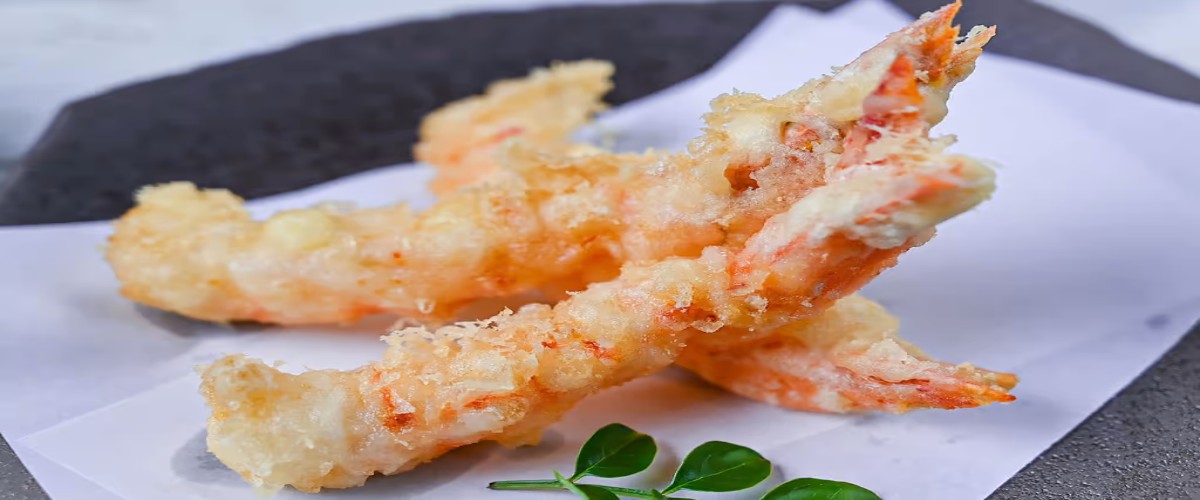 Shop Ingredients: https://enedao.com.bd/product-tag/japanese-shrimp-tempura/
Shrimp is the king of all tempura! Whether you're enjoying it with noodles, on donburi or on its own, shrimp tempura never dissapoints. Learn how to make perfect, light and crispy Japanese style "Ebi Ten" with my tips and tricks!
Chilling Time: 30 minutes 
INSTRUCTIONS:
Measure out 

100 ml water

 into a jug and place it in the refrigerator for 30 minutes along with an unopened bottle of sparkling water.

Sift 

15 g potato starch

 and 

75 g cake flour

 into a bowl. Mix them together and place the bowl in the fridge for 30 minutes.

While your tempura batter ingredients are chilling, prepare your shrimp. Remove the shells and veins (see in post for how) but leave the tails intact.

Place 

10 large shrimp

 in a bowl with 

2 pinches salt

 and 

1 tsp cornstarch

 and rub them over the surface of the prawns.

Once evenly covered, wash the shrimp under cold running water to rinse off the salt and corn starch.

Dry them with kitchen paper and transfer to a chopping board.

Place the shrimp on its side and with the tail folded in half and trim it diagonally. The pointy tip should be cut off and be the shorter part of the diagonal. (This stops oil from splattering out when it's frying and it looks nicer too!)

Turn the prawn so the belly is facing up, and make diagonal incisions along the whole body. The incisions should be about 1cm apart and go about ½ way through the prawn.

Once 30 minutes have passed, start preheating your oil to 

180

 °C

 to 

190

 °C

.

In a bowl (or jug), add a few tbsp of the chilled water and 

½ tbsp Japanese egg mayonnaise

. Mix until the mayonnaise has combined with the water. (Alternatively, whisk a small egg in a separate bowl and add half to the water instead.)

Pour the rest of the chilled water and 

50 ml sparkling water

 into the bowl.

Add the flour/starch one-third at a time, gently drawing crosses through the mixture with the chopsticks to incorporate it. (Do not whisk or over-mix.)

Test your oil by adding a drop of batter, if it sizzles and floats you're ready to fry. (If it sinks, heat more and keep the batter in the fridge while you wait.)

Add a couple of ice cubes to the batter and mix to make it extra cold. (optional)

Dry the shrimp with kitchen paper and dust them with a thin layer of flour.

Dip them in the batter and then immediately place them into the oil one by one. Make sure not to overfill the pot. (Keep the batter in the fridge between batches.)

Fry for about 2 minutes or until crispy but no golden (tempura should be pale in color).

Once cooked, place on a wire rack to allow the excess oil to drip off.