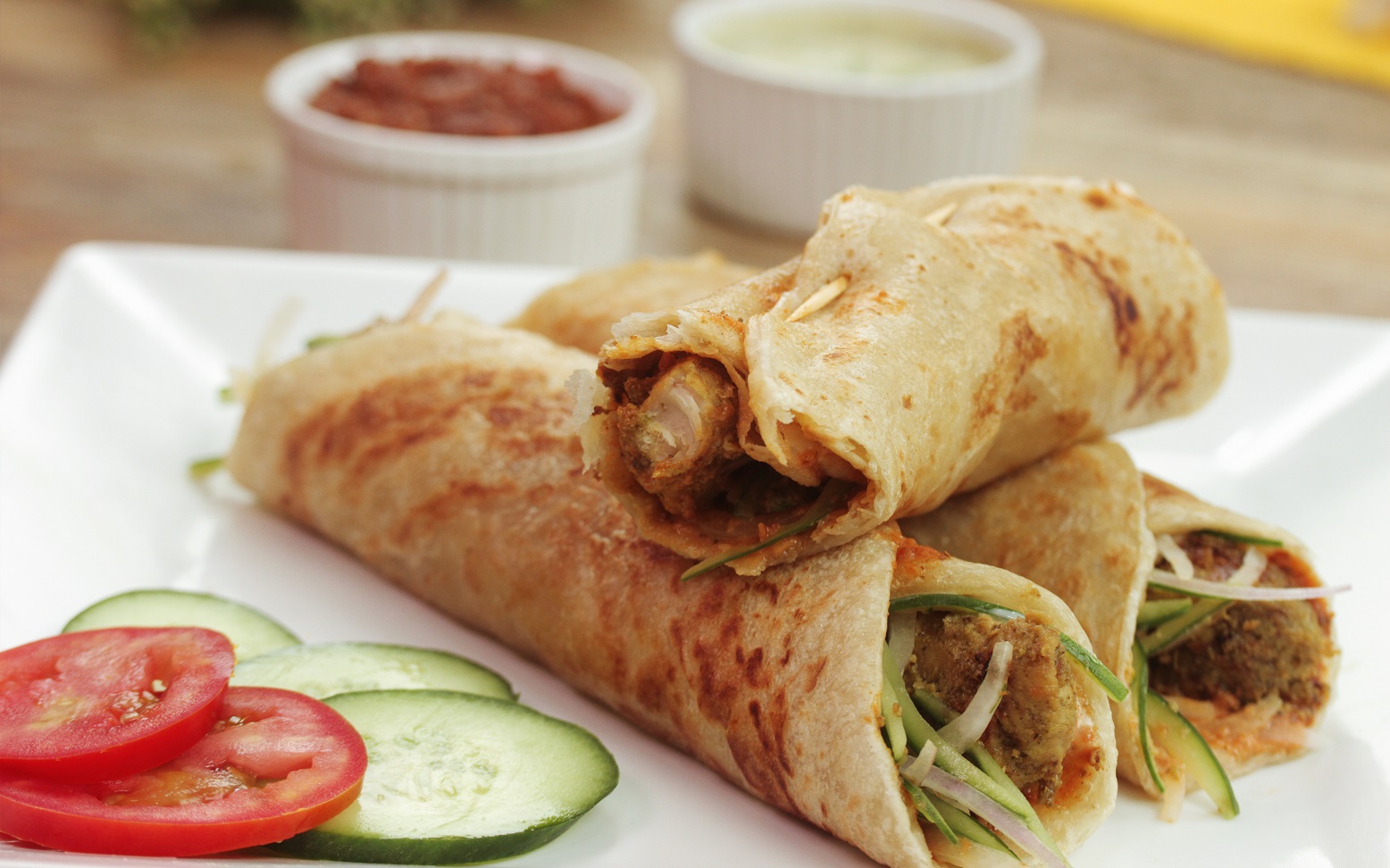 Shop Ingredients: https://enedao.com.bd/product-tag/chicken-paratha-roll/
I grew up eating in cars. As a little kid visiting Karachi from Jeddah my vacations were punctuated by trips to Boat Basin. As a teen living in Karachi my Boat Basin loyalties became divided as I discovered the magic Chicken Paratha Rolls. That slightly crisp fried poori paratha stuffed with spiced mirchi chicken, the slightly oozy chutneys, the crisp onions. That was my jam. I could eat two, no problem. God bless the metabolism that allowed me to. Over and over again.
Instructions:
Chicken:
Cut the chicken into one inch pieces and add in all the marinade ingredients and leave for a minimum of 2 hours and up to overnight. Tip: if you have less time to marinade then make your chicken pieces smaller.

Heat a saute pan and add 2-3 tbsp of oil, cook the chicken sauteeing occasionally until cooked through. If grilling the chicken then simply thread it onto presoaked wooden skewers and grill for a few minutes on each side until cooked through.

Heat a piece of coal until you can see hot red spots. Then place the coal on a piece of oil (or an onion skin) inside your sauté pan, drizzle with a little oil and immediately cover the dish with an airtight lid until the smoke dissipates.
Chutney:
Combine ½ the yoghurt (½ a cup) and all the chutney ingredients in a mini blender and puree. Stir in the remaining yoghurt – this prevent your chutney from getting too watery. Adjust seasoning to taste – this chutney should be spicy.
Onion Mix:
Thinly slice your onion and soak in cold water for 30 minutes to get rid of any bitterness

Drain then mix in the mint.
Assembly:
Place your paratha on a clean surface, create a line of chicken pieces, layer on the onion mix, and then the chutney. Roll up the paratha and wrap in foil/paper and serve with extra chutney on the side. Fries and Garlic Mayo (recipe in post) are always welcome!

You can reheat a wrapped paratha roll in the oven to really yummy effect!
Notes:
Servings: I usually comfortably get 6 rolls from this recipe – if you want thicker rolls then you can certainly add more chicken to your roll, but be careful when rolling. 

Paratha: The best store-bought parathas for these rolls are the white flaky kind, not the darker homestyle parathas.