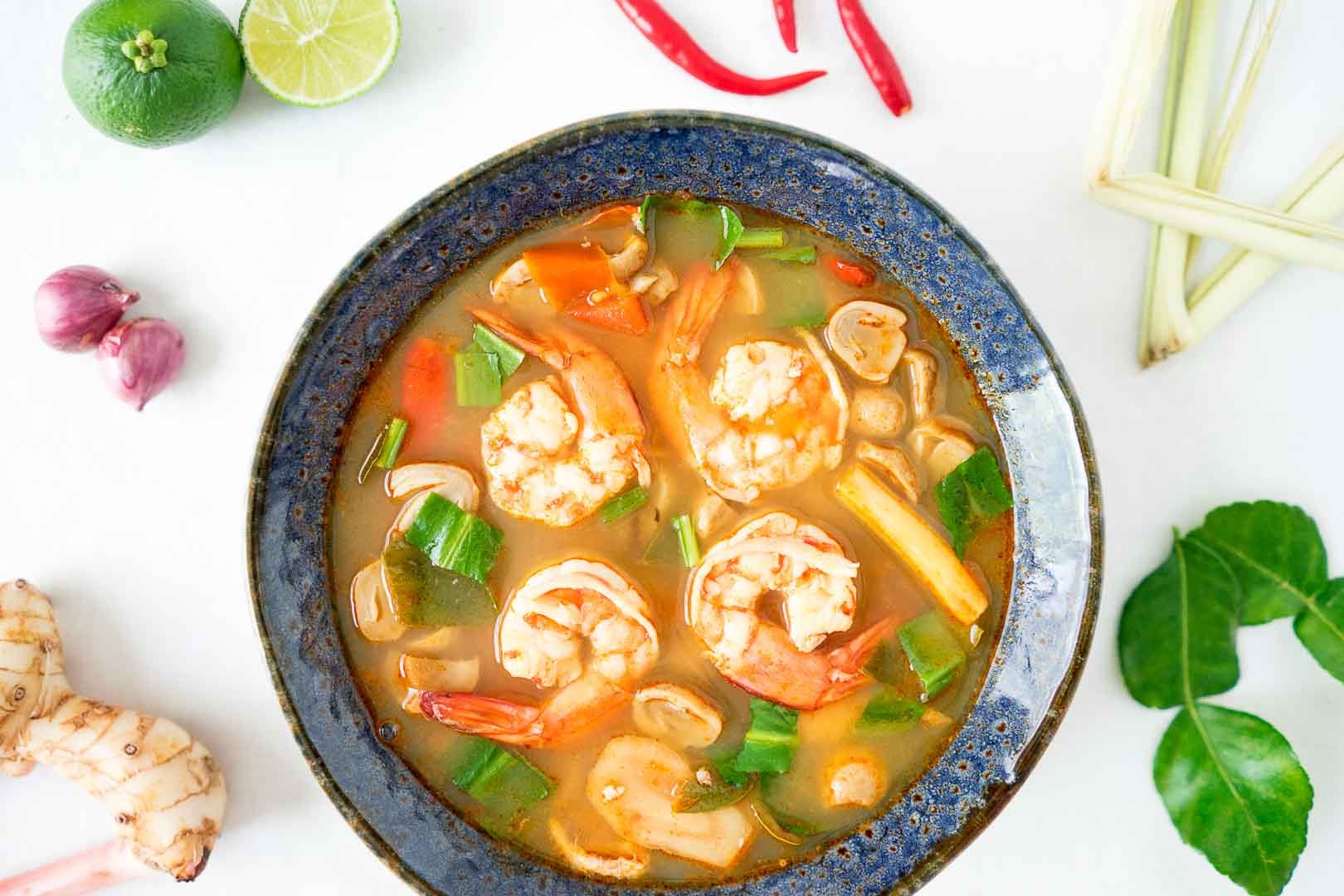 Shop Ingredients: https://enedao.com.bd/product-tag/tom-yum-soup/
Tom Yum soup – everybody's favourite Thai soup is finally here! Choose from the classic clear Tom Yum Goong, or make the creamy Tom Yum version – both are made with the same broth.Simple to make using whole fresh OR peeled frozen prawns / shrimp, this is astonishingly easy to make once you've gathered the ingredients! Bonus: Tom Yum is probably the healthiest Thai dish ever, clocking in at just 156 calories!
Cooking Time: 20 minutes

Serves: 2
Instructions:
BROTH:
Peel the prawns. Place heads and shell in pot, reserve meat.

Use a meat mallet or similar to bash the garlic, chilli and lemongrass so they burst open to release flavour. Add into pot.

Crush kaffir lime leaves with your hands. Add into pot.

Add galangal, stock and water. Bring to simmer on high heat, cover, then reduce to medium and simmer for 10 minutes.

Strain the broth, discard the prawn shells etc, then return broth into same pot over low heat.
FINISH SOUP:
Add onions and mushrooms, simmer 3 minutes. Add tomatoes, simmer for 1 minute.

Add prawns, simmer 2 minutes or until just cooked.

Stir in sugar and fish sauce, simmer for 1 minute.

Add lime juice, then taste. Adjust sweet (sugar), salt (fish sauce) and sour (lime) to your taste (trust me, you'll know when you like it!).

Ladle into bowls and serve with fresh coriander and fresh chilli! This is the CLEAR version of Tom Yum.
CREAMY TOM YUM:
When you add sugar, also add Thai Chilli Paste and evaporated milk.

Then continue with recipe!
BONUS: TOM KHA!
Following Creamy Tom Yum steps but use coconut milk instead of evaporated milk.
Recipe Notes:
1. Lemongrass – To prepare, cut in half, peel the reedy green shell to reveal the softer white part on the bottom half of the lemongrass. If lemongrass is hard to come by, you can use PASTE: stir in 1 tbsp.
2. Galangal is like ginger but it has a more sour and peppery flavour. If you can't find it, just substitute ginger and a grind of black pepper.
3. Kaffir Lime Leaves are the leaves of a kaffir lime tree. It's used to add earthy citrus flavours into Asian food. Sold at large grocery stores (Coles, Woolies, Harris) and Asian stores. Dried is an ok substitute (same amount), but I really urge you to try to find fresh if you can because it adds that "something-something" that really makes this "restaurant quality". Freezes 100% perfectly, I always have a stash!
4. Chilli – This soup is not that spicy but has a mild hum to it!
5. Fish Sauce – I'm afraid this is key to getting enough flavour in the broth so I can't offer a sub here!
6. Thai roasted Chilli Paste – you'll need to go to a Thai grocery store for this. If you can't get to one, use another Asian Chilli Paste and some chilli oil to achieve a similar flavour and effect. Sambal Oelak + chilli oil is an excellent fall back.
7. SHORTCUT FROZEN PRAWN/SHRIMP VERSION: I wanted to make a faster version made using pre-peeled frozen prawns. Even I was astonished how well it came out! Here's how to make it:
Skip prawn/shrimp shells and head in the broth. Instead, add 1.5 tsp shrimped paste into the broth. Proceed with recipe.

Use 200g/7oz frozen peeled prawns (this is more than the weight of peeled whole prawns) and add them in step 7. The resulting soup is extremely good, quite similar to making the broth using the prawn shells!
8. Storing – leftover soup can be kept for 2 days in the fridge then gently reheat in microwave without prawns/shrimp and add them in later (so you don't accidentally overcook them). 
Freezing – broth freezes 100% perfectly. For best results, follow recipe to strain, then return into pot. Gently cook shrimp/prawns than remove. Add fish sauce and sugar. Allow to cool separately, return shrimp into broth and freeze. Add mushrooms and tomato once soup is reheated, as well as lime (best to add these fresh).
9. Nutrition per serving.