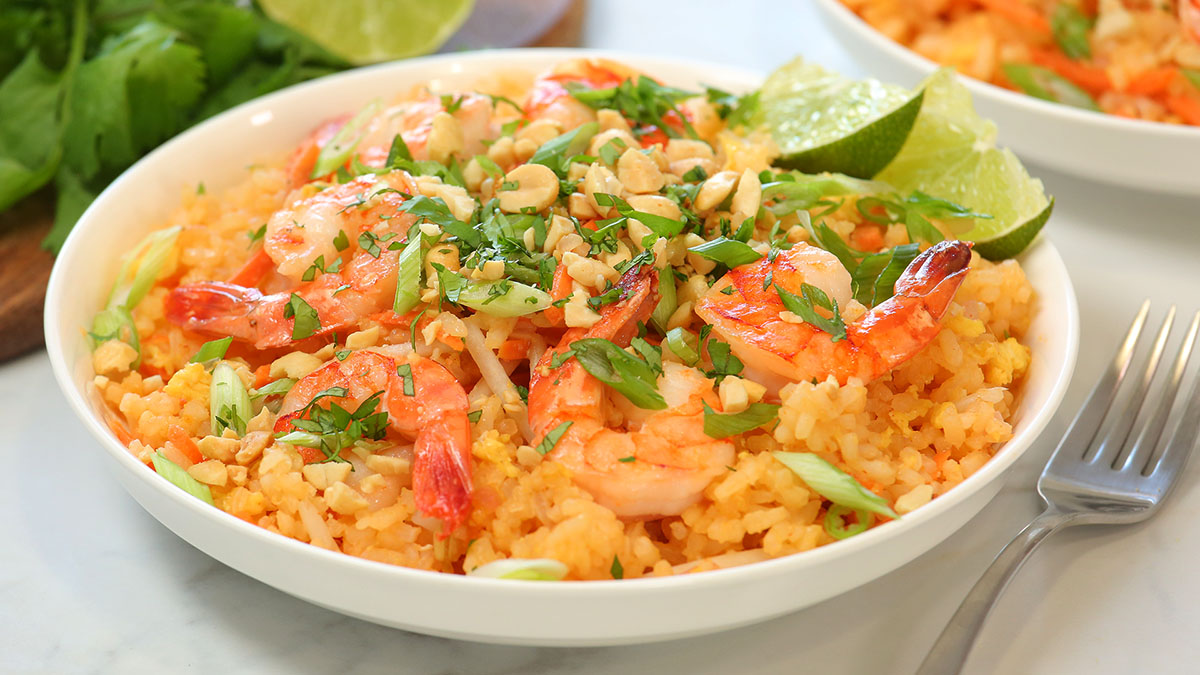 Shop Ingredients: https://enedao.com.bd/product-tag/khao-pad-thai-fried-rice/
Restaurant-style spicy Thai fried rice, Khao Pad recipe made with Thai jasmine rice, prawns/shrimp, eggs, chillies, garlic and delicious seasoning sauce. It's so easy to make and packed with authentic flavour. Quick and delicious meal ready in 15 minutes!
Cooking Time: 10 minutes

Serves: 2
Instructions:
Add the sauce ingredients fish sauce, light soy sauce, and sugar in a small bowl. Whisk it well until sugar dissolved. ( You can heat up in microwave for 4-5 seconds to melt the sugar. )

Heat the large wok or pan over medium heat, drizzle 2 tbsp of oil and stir fry the shallots and garlic for a few seconds until fragrant. Add the prawns and cook for 1-2 minutes.

Then, push the prawns to one side of the wok, drizzle 1 tbsp of oil and add 2 eggs inside the wok. Let it set for a few seconds then break them into small pieces. Add chillies and sprinkle salt and pepper to taste.

Next, add the cooked rice and pour the sauce mixture over the rice. Bring the heat to a high and stir fry for about 2 mins or until the sauce is combined well with the rest of the ingredients.

Add spring onions, toss everything well for another 1-2 mins. Transfer to a serving plate and garnish with, cucumber, lime wedges, and coriander.
Cooked rice – Thai jasmine rice is ideal for making Khao Pad but you can also add your choice of long-grain cooked rice. Use a day-old, cooled rice for the best result. Do not add freshly cooked rice as it can be mushy when you stir fry it. 
Prawns – Use peeled and deveined king prawns, tiger prawns, white prawns, shrimps, crab meat, scallops, squids, or a choice of seafood. 
Protein choice – You can also add chicken, minced meat, sausage, tofu, or vegan meat, as a prawn substitute. 
Fish sauce – Fish sauce has a salty rich umami flavour which is ideal for making Thai stir-fries. Instead of fish sauce, you can add oyster sauce, Thai Healthy Boy seasoning sauce, or vegetarian stir-fry sauce ( mushroom sauce ). 
Vegetables – You can add small dice of carrots, sweetcorn, green peas, etc.  
Freezing and reheating option – Do not recommend freezing khao pad but you can keep it in the fridge if you have leftovers. Place the leftover fried rice in the air-tight container and store it in the fridge for up to 2 days. Reheat it in the microwave or stir fry it in the pan until hot just before serving. 
Cooking for a crowd – If you are cooking for a crowd, fry the rice in batches. Do not overcrowd the wok/pan to spread enough heat to all ingredients. This recipe is for 2-3 servings and you can double or triple the ingredients. 
Nutritional fact is calculated approximately per serving and it can be varied by the number of different products used.