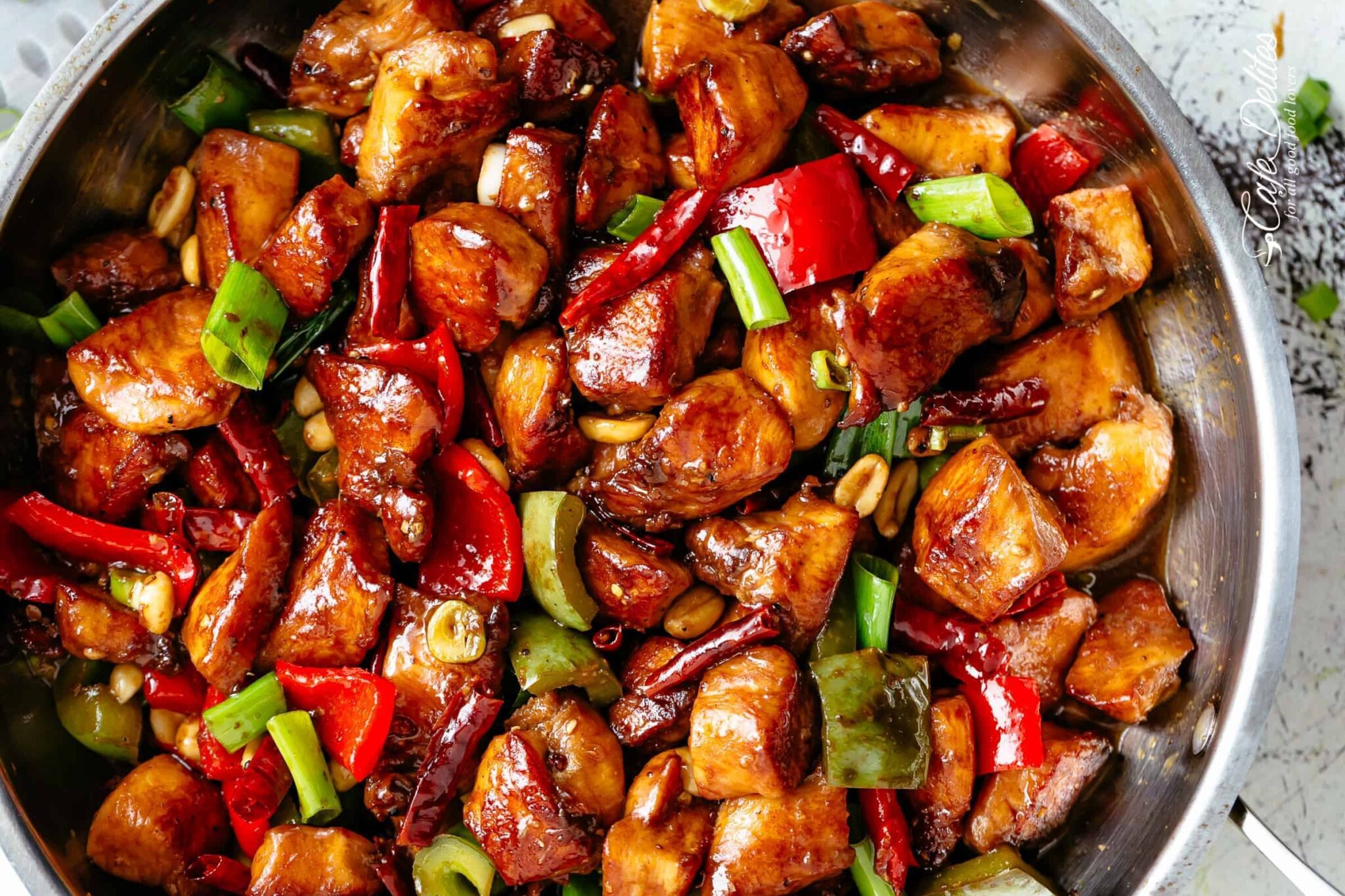 Shop Ingredients: https://enedao.com.bd/product-tag/kung-pao-chicken/
Kung Pao chicken – done right! The flavour of this sauce is very similar to proper restaurant versions, with a great balance of savoury-sweet and sour with the numbing tingle from Sichuan pepper. Use whole Sichuan peppercorns if you have them, otherwise ground is fine (which is what I use).
Cooking Time: 10 minutes

Serves: 4
Instructions:
SAUCE & MARINADE CHICKEN:
Mix cornflour and soy sauce in a small bowl until cornflour is dissolved. Then mix in remaining Sauce ingredients EXCEPT water.

Pour 1.5 tbsp Sauce over chicken. Toss to coat, set aside for 10 – 20 minutes.

Add water into remaining Sauce.
STIR FRY:
Heat oil in wok over high heat. Add garlic, ginger and chillies. Cook for 30 seconds or until fragrant.

Add chicken, cook until it turns white, then add the white part of the green onions. Cook until chicken is cooked through – about 2 minutes.

Add Sauce and Sichuan pepper. Bring to simmer, mixing constantly, until almost all the sauce reduces to a thick syrup.

Just before the end, mix through peanuts and green part of the green onions. Also check spiciness – add more Sichuan pepper if you can handle the heat!

Serve immediately with rice – or for a low carb, low cal option, try Cauliflower Rice!
Recipe Notes:
1. Chicken – I prefer making this with thigh because it's juicier, but it can be made with breast or tenderloin. If using breast, option to tenderise using the Chinese method so it's super tender and juicy like you get at Chinese restaurants – see How to tenderise chicken the Chinese way (Velveting)
2. Light Soy Sauce is saltier and lighter in colour than all purpose soy sauce (like Kikkoman). The bottle will have "light soy sauce" written on it. It's available in large supermarkets – e.g. Coles and Woolworths in Australia. It can be substituted with all purpose soy sauce – like Kikkoman.
3. Dark Soy Sauce is much darker in colour than Light Soy Sauce has has more flavour. The bottle has "dark soy sauce" written on the label. This is mainly to darken the colour of the sauce so if you don't have it, you can substitute with all purpose soy sauce or even with light soy sauce.
4. Chinese black vinegar for the sour is the authentic way of making it. It looks like balsamic vinegar, tastes like it too but with a slight savoury edge. It's available at Asian stores and some large supermarkets. Substitute with 1.5 tbsp of rice wine vinegar, or 1 tbsp white vinegar or even a mild balsamic vinegar (plain one).
Do not use Taiwanese black vinegar (which is also sold at some Asian grocery stores), it tastes like sour Worcestershire sauce and it changes the flavour of this recipe. Bottle label will say "made in Taiwan".
5. Chinese Cooking Wine is also called shaosing / shoaxing wine, see here for more information. It's the ingredient that makes recipes truly taste like what you get at Chinese restaurants.
Substitutions: dry sherry or mirin (if using mirin, skip the sugar) or Japanese cooking sake (rice wine). If you can't consume alcohol, then skip it but use chicken broth in place of water.
6. Sichuan peppercorns are not that spicy, they sort of make your mouth numb. In a pleasant way! I used to grind my own but nowadays I just buy ground. If you grind your own, toast them in a dry pan first then grind – it will have slightly better flavour but you get grittiness. 
Taste first for spiciness as I find that the spiciness varies. Add more at the end if you want more heat.
They can be purchased at Asian grocery stores, fruit & veg stores that stock spices and some supermarkets. In Australia, they can be purchased at Harris Farms. In America, I am told that sichuan pepper is sold at Wholefoods!
7. Dried chillies: I find that the spiciness of dried chillies drastically differs from brand to brand! So adjust this to taste. Cut off a tiny bit of the chilli and check how hot it is, then decide how many to use. I typically use 6 dried chillies that are around 6 – 7cm/ 2.5″ long, deseeded.
8. Nutrition per serving, Kung Pao Chicken only assuming chicken thigh is used. 150 calories of this is attributable to the peanuts.
9. Republished recipe – This Kung Pao Chicken recipe was original posted in April 2016. Recipe has been slightly modified so there's a touch more sauce – by reader demand!